FREEPHONE: 01285 327012
MOBILE: 07825 913917












- Same day aerial service -

support you
local

Cirencester aerial business
TERMS AND CONDITIONS
aerial repairs cirencester
aerial services cirencester
Please contact us on 01285 327012
or 07825 913917
or email: info@cirencesteraerials.co.uk





This Web Site and any content is for information purposes only and AKM Aerials, does not make any representation or warranty (express or implied) and does not accept any responsibility or liability as to, or in relation to, the accuracy or completeness of the information contained on the Web Site or any other written or oral information made available to any interested party or its advisers and any liability in respect of any such information or any inaccuracy on, or omission from, the Web Site is to the fullest extent permitted by law expressly disclaimed.
This Web Site may contain links to other Web Sites, which are not under the control of and are not maintained by us. We are not responsible for the content of such Web Sites. We provide these links for your convenience only but do not endorse nor edit nor vet the material on such Web Sites. We exclude all liability arising or resulting there from.
This Web Site, its contents, the services described, and /or supplied pursuant to, the same and these terms and the terms of any such supply shall be governed only by English law and the Courts of England shall have exclusive jurisdiction over any claims/disputes arising in relation thereto.
If any of these provisions shall be declared invalid in whole or in part, such provision shall be severed and the remaining provisions and/or part shall remain in full force and effect.

AERIAL CIRENCESTER - AERIALS CIRENCESTER - TV AERIALS CIRENCESTER - AERIAL REPAIRS CIRENCESTER - AERIAL ENGINEER CIRENCESTER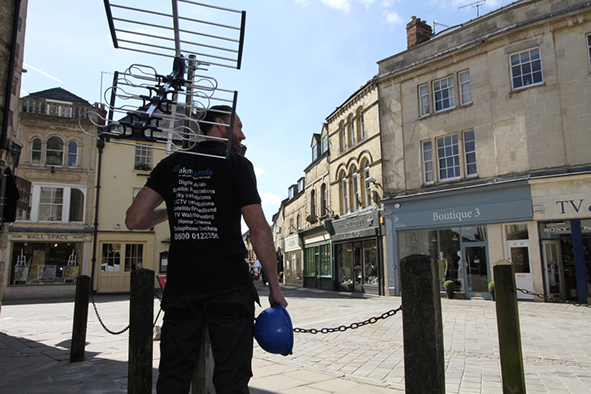 Our local family firm of aerial engineers have over 20 years TV Aerial experience in the Cirencester area, to help solve any problem you may have with your aerial or satellite dish. We started many years back, working for the Sony Centre in Cirencester dealing with all their aerial, satellite and TV wall mounting requirements, located in Cirencester and surrounding areas. During the digital switchover we helped many Cirencester based homes get a signal from the Mendip transmitter instead of the local Daglingworth Transmitter giving our customers more TV channels to choose from.
We have many satisfied customers in the Cirencester area that have the assurance our 5 year guarantee. We offer great customer service, fast response, quality components and professional installation procedures that makes us the number one local aerial and satellite services company in Cirencester.
Bookings taken 7 days a week from 8am to 9pm on Cirencester 01285 317012 or 07825 913917. Alternatively for any enquiry, big or small, get in touch out of hours online at info@cirencesteraerials.co.uk
#cirencester aerial #cirencesteraerials #aerialcirencester #tvaerials #cirencestertvaerials #gloucestershire #cotswolds #tvaerial #aerialinstallations #tvaerialcirencester #tvwallmountingcirencester
Cirencester Aerials have a wealth of experience in providing cost effective aerial installation and repair solutions.
Our experienced and polite team of male and female operatives are also fully qualified to install wall-mounted TV's, Sky and Freesat services and advanced home networking solutions.
We're a local company with local connections, and we're happy to offer free advice and surveys, should be unsure as to the service you require.
Bookings taken 7 days a week from 8am to 9pm on Cirencester 01285 317012 or 07825 913917. Alternatively for any enquiry, big or small, get in touch out of hours online at info@cirencesteraerials.co.uk
#cirencester aerial #cirencesteraerials #aerialcirencester #tvaerials #cirencestertvaerials #gloucestershire #cotswolds #tvaerial #aerialinstallations #tvaerialcirencester #tvwallmountingcirencester
'helpful, hardworking and completed job on time!!.'
VERONICA NEALE - BARBROOK, RUSCOMBE, CIRENCESTER
'Efficient and friendly'
EMMA SOMERVILLE - ROBINSWOOD, CIRENCESTER






FREEPHONE: 01285 327012
MOBILE: 07825 913917
info@cirencesteraerials.co.uk
©COPYRIGHT 2023 - AKM AERIALS